Round Trip Goods is an art and design studio with a focus on second hand fabrics & clothing, plant dyes, sewing, print making, illustration, classes & community. Based in Denver, Colorado, Leah Rich is the sole creator/artist behind Round Trip Goods.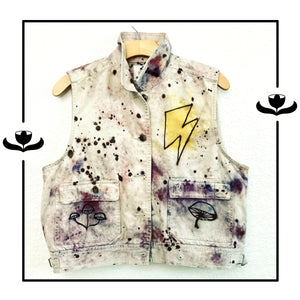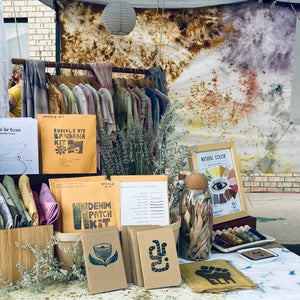 NEWS & EVENTS:
Bundle Dye Class Sunday Oct. 1st 3-5pm
Fresh Leaf Indigo Dye Class at Minoru Farm 11am on Sunday October 8th
Tickets to dye classes are found in the link at the top left corner of this page.
Shop a collection in person at Circa Vintage, 2502 W Colorado Ave, Colorado Springs, CO 80904
Origins
Faced with burnout in the industrial design industry, I had to make a big change toward something more sustainable for me and the world.
Discovering natural dyeing in the months before the 2020 lockdown was the missing link that allowed me to create a home studio and combine my love of plants, fabrics, and waste based design.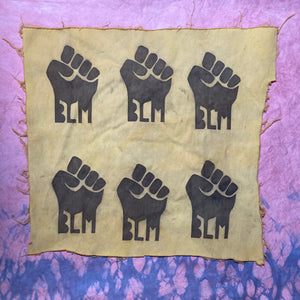 Round Trip Goods is a cis-gendered white woman owned business. I acknowledge my privileges while I work to be less ignorant, do minimal harm to the communities around me, and support other artists along the way.
I honor traditional textile workers, cotton pickers, block printers, garment workers, the Cheyenne and Arapahoe peoples who are indigenous to where I now live and work, and the dyers who have kept ancient earth skills and knowledge alive through the horrors of colonization and the growing climate crisis.
Blog Posts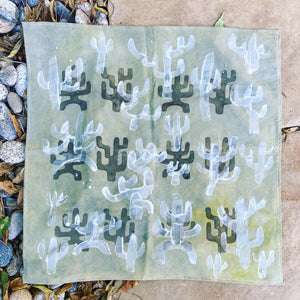 wanted to see if I could layer another design overtop the iron print so I added more cacti spirits, this time hand painted with a clay resist paste.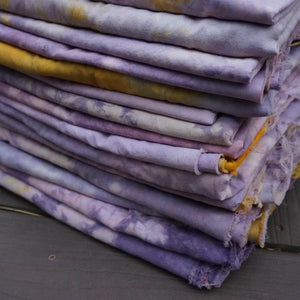 Slowing Textile Waste
New textile production, whether it's growing cotton or producing a synthetic fiber, is labor intensive and requires vast amounts of water and waste. Because cotton fabric and clothing are easy to find second hand in big cities, I use this abundant material rather than contributing to new textile production. This also helps curb shipping, packaging, and makes the final product more affordable for you, using a fraction of water and resources in the process.
Living Color
Colors from plants carry the properties of the plant with them into fabric. Dyes from plants like indigo and madder root have a human history, an aliveness, and a quality of color only the natural world can provide.
The plants I don't responsibly forage for or grow, I source from Botanical Colors in Seattle who builds relationships with farmers and sources dyes responsibly.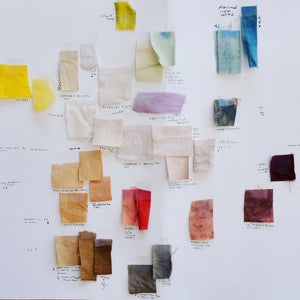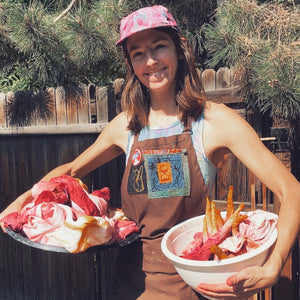 Patreon Support Makes Magic Happen
If you feel passionate about women entrepreneurship or sustainable practices in fashion and art and have as little as $3 a month to spare, consider becoming a Patreon Member.  Patrons help me survive in a very real way.
Patrons see new products first and get a behind the scene look at RTG!
PATREON INFO
FAQ
SLIDING SCALE & TRADES: I have traded clothing for tai chi lessons, pottery, beer, and other artwork, reach out via email if you'd like to make a trade.
I offer a sliding scale price for anyone who identifies as low income, BIPOC, trans, gender non-conforming, as well as our veterans, teachers, climate workers, farmers, and artists. Use the code NEIGHBOR15 for 15% of anything in the shop anytime, no questions asked.
SKIN SENSITIVITY: I use only biodegradable, non-toxic, planet safe soaps and fabric softeners to make sure our fabrics are safe for all skin types (our favorite is 7th generation products). While most plant dyes have almost no record of allergies, please make sure you are not allergic to any of these plants before using our textiles on your own skin.
SHIPPING : Items in stock will ship out within 2 days unless I am traveling. If I am away from my merchandise, I will have a notice at the top of the page of the next soonest ship date.
RETURNS: I do not do returns but am happy to exchange items if you are not satisfied with a new item in the first 30 days. I strive to show items accurately and with enough detail to convey each items' qualities. Proper care of products will ensure a long life of the item and its infused colors. If you have any questions about an item, don't hesitate to email me.
Sustainability Efforts
All shipping envelopes are pre-used, 90% of my studio equipment comes from the thrift store, all dyes and binding string are made of safe, biodegradable materials. All textile scraps are either reused into product creation or recycled with a textile recycler.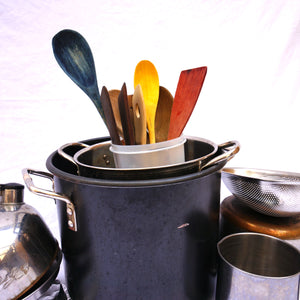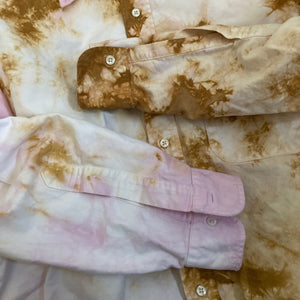 Product Care
Items are embedded with living plant dyes and will change with you over time. This is natural and part of the journey of the fabric and plant infusion. Some colors darken, some lighten, some shift.
If you have the time, hand washing is best but a delicate machine cycle with like colors and cold water works too. Tumblr dry with low heat or hang dry.
Ironing items after they dry works great at getting cotton back to a smooth finish.
Make the Round Trip
Our items are designed to be unisex, user-friendly, and multi functional to encourage creative interactions and a long life for the product. Hopefully you use your Round Trip Goods until they are worn out from love and daily use. We encourage you to repair, and repurpose your products if you think it's at the end of their life cycle. We would love to hear of ways you reuse old textiles of any kind. Post on social with #maketheroundtrip to share ideas.